Chris Isaak Show
Network Premier:
March 12, 2001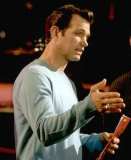 Synopsis
"The Chris Isaak Show" is a semi-autobiographical television show based on the relationships and experiences of musician Chris Isaak.
"It is a comedic peek into the life of an everyday guy with the not-so-everyday job of a rock star".
In the show, Chis plays himself, as do his real life band members. The show is set in San Francisco, where Chris plays regularly at a night club and is tormented by his past and present relationships, his quirky manager Yola, and his ever-budding Silvertone band musicians.
The show will air on Monday nights at 10:00 p.m. ET/PT
Dove Review
In the first episode, titled "Freud's Dilemma", we are taken to Canada where Chris and the guys shoot a music video. This episode has guest star Bai-Ling as herself, and is taken from a true-life experience once lived by Isaak. Chris has just broken up with his girlfriend, and is reminded of her, as well as perplexed, by the quiet woman who strips next door (full nudity shown). His real life mother makes a cameo, only to come to the conclusion that he needs to "come to terms with his libido" Other sub-plots include manipulation of a homosexual male to get a television slot, and band-member Anson (played by the hysterical Jed Rees)who romances a young horsewomem; only to run away from her when he feels challenged by her horses endowment. All this comes together in a weekend, and is the installment of things to come for crooner, Chris Isaak. Although this is supposed to be a comedy, or moreso a sitcom, I laughed once at the show as the bland production values and envelope pushing stretch the Showtime Channel Tagline "No Limits". Although some minor redeeming qualities shine through, the show is not worth sitting throuh the muddled profanity and ambiguous nudity.
Content Description
Numerous uses of damn, b----, a--, hell, sh--, f--, and numerous slangs for human and animal reproductive organs. The pilot contains full frontal female nudity, sexual innuendos, and sexual converstaions.
Info
Company:
Showtime Networks, Inc.
Writer:
Diane Frolov and Andrew Schnider