The Shunning
DVD Release:
September 13, 2011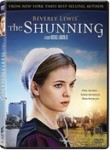 Synopsis
Before she succumbs to cancer, the dying wish of Laura Mayfield-Bennett is to be reunited with the daughter she never knew. Unfortunately, that daughter, Katie Lapp, is a member of the Amish order. Katie is about to be married, but uneasy about the path ahead. Now she discovers the secret her parents have kept from her: she's adopted.
The film is based on the celebrated first novel of the best-selling "The Heritage of Lancaster County" book series from author Beverly Lewis. Stars Danielle Panabaker & Sherry Stringfield
Dove Review
"The Shunning" is a moving film that centers around a common question; who are we really? In this dramatic portrayal, Danielle Panabaker plays an Amish girl named Katie Lapp who is betrothed to the town's Bishop. Although she should be pleased to be marrying a kind and gentle man of his stature, she continues to remember her first love, a boy who died 3 years earlier. Adding to her internal conflict is her love of "English" music which is banned in her community. When she finds out that she was adopted as a baby, she rebels against her upbringing and the town's elders decide that the proper thing to do is to "shun" her until she comes back to the ways she was taught.
The film portrays the Amish lifestyle and belief system reverently and with respect. But, it also shows how hard life can be if you do not conform to their rigid ways. In the end, a wise woman gives Katie some good advise: "The miracle ain't the life you missed, its the life you got." We are pleased to award this film our Dove Family-Approved Seal for all ages.
Info
Company:
Sony/Affirm Films
Writer:
Chris Easterly (teleplay), Beverly Lewis (novel)