Paranormal
DVD Release:
January 26, 2010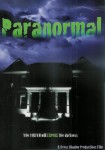 Synopsis
Interest in the "Paranormal" is at an all time high. It is harmless fascination…or something more sinister at work?
"Paranormal" follows best-selling, self-made novelist Greg Evans struggling through the worst case of writer's block in his award-winning career. In a desperate search for inspiration, Greg quickly finds himself immersed in a world he is not prepared to face. Turning to a group of Paranormal investigators, Greg and the ghost hunting team search for proof and answers, yet are unaware they are about to have an experience of a lifetime! None will leave the way they came. Paranormal will peel back the supernatural curtain to reveal how the Truth will Expose the Darkness!
Dove Review
I believe the intent of the writer/director is to show that spiritual warfare is a reality and that supernatural beings such as angels and demons do exist. In fact, demonic forces are conquered by film's end but we won't give away the details of how exactly it happens. The movie opens with a scripture reference, 1 John 4:1-3, which refers to spirits and to the battles we sometimes face.
A paranormal group travels to a sanitarium which is supposedly haunted and they attempt to communicate with the supernatural inhabitants. Another goal of the film seems to be in making the point that doors should not be opened to invite these evil forces in. In another plot in the movie, which will eventually tie in to the paranormal group, a Christian woman named Brooke Evans has been attempting to convert her husband Greg, a writer. When Greg sees some teens, including his son, use a Ouija board, only to have the name of Greg's dead daughter Megan spelled out, Greg becomes determined to seek out the truth to learn if this is really Megan trying to contact him or something else. He winds up connecting with a pastor, which turns out to be a very good thing. But he also calls on the paranormal group who have no success against the evil they and Greg confront.
The occult theme is so vividly displayed in the film that many conservative families may feel ill at ease at watching everything that takes place in the story leading up to the pastor confronting the enemy by film's end. It actually is a frightening film in many ways and some young children may be disturbed by it, as could some adults. Their are elements such as the use of a Ouija board, the sound of evil voices, the sight of a scary-looking demon appearing, etc. In fact, some scenes are so well done that they will potentially produce fear in the viewer. Due to this content, we are awarding this well made movie our Dove "Faith-Based" Seal with a caution for Occult activity.
Info
Company:
Cross Shadow Productions
Industry Rating:
Not Rated
Reviewer:
Edwin L. Carpenter